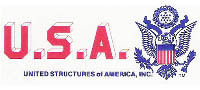 U.S.A., Inc.


GBS Enterprises, Inc. has 14 years of experience in pre-engineered steel building erection. Design/build and engineering expertise for all projects supplied by United Structures of America, Inc.

USA, Inc. works with their builders, and believe the builders are a part of the USA, Inc. family and should be treated as such. Our versatility in design and fabrication is almost without limits. Octagon shaped religious facilities, extremely wide openweb clear spans and heavy crane buildings are everyday projects. At USA, Inc. we are not reluctant to provide you what you need for your projects.

We have an excellent Quality Control System that works very closely with our Customer Service Department to insure we shop our products virtually error free. Our inspectors check the manufacturing during different phases to ensure we meet the highest standards of quality.

Since 1980, USA, Inc. has been doing business the old fashioned way-The Tradition of working hard to service our customers and earning their trust to develop long standing relationships.